2016
12 Jyothilinga Dharshanam E xhibition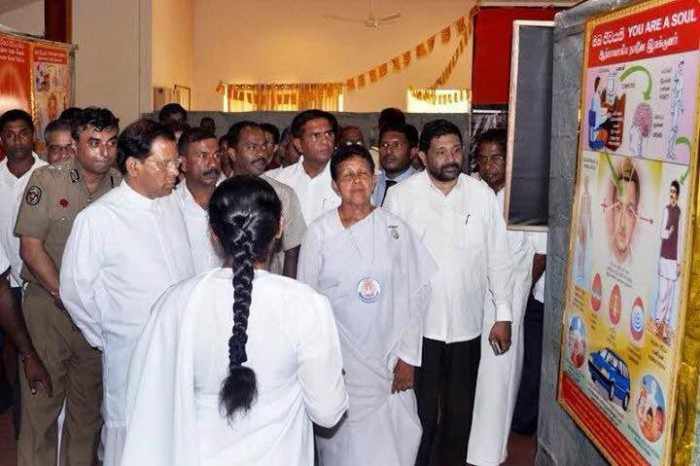 President of Sri Lanka Hon. Maithripala Sirisena visited our 12 Jyothilinga Dharshanam exhibition on 8th Marchල 2018.
After going through the 12 Jyothi Lingam Dharshanam exhibition and the Raja Yoga pictorial exhibition, president wrote down a wish and put that into the "Sacrificial Fire" box. Then he was guided to the meditation room where he spent very powerful 5 minutes of silence. He requested all media cameramen to be aside and stayed with lot of concentration looking at the point of light picture.
After receiving Godly gifts and blessings from BK. Ganesh, the chairman of Brahma Kumaris, Sri Lanka, he spoke briefly the following message;
"In this mechanical and technical world very few take up the challenge of spirituality. Spiritual activities which brings peace of mind is the great need to our society now. I wish all the success and my deep heartfelt wish is these spiritual activities of Brahma Kumaris Raja Yoga Centers be a great success. Success mean the development of the society. Development of the society means development of the people in the society. Spiritual progress of each and everyone in the society is the way for that development. I wish all success to Brahma Kumaris Raja Yoga center"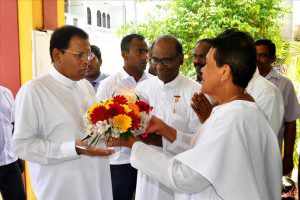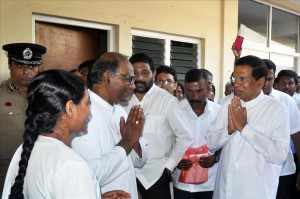 ---
On provincial level, Value Based Debate Competition was organised in collaboration with the Ministry of Education-Northern Province for the G.C.E A/L students to celebrate the first year anniversary of Sukh Dham Hall, Jaffna. Many schools participated and many appreciated this initiation.
2014
Art Gallery a museum for spiritual pictorial exhibition and meditation was built and inaugurated in Pasikkuda at Batticaloa to serve many tourists.
2013
12 Jyothir Lingam temples are famous in India. In Sri Lanka the First 12 Jyothir Linga Dharshan project was inaugurated and held at Kotahena and Batticaloa on year 2013 for Shivrathri. This project was going on till now and many have benefited.
2010
Rehabilitation Service – a project with the Bureau of Commissioner General of Rehabilitation.
2009
Good wishes & pure feelings was a National Meditation Initiative that will be spread through thoughts. Powerful vibrations of love, peace & power will be received by all who are undergoing mental, physical suffering & pain.
Inauguration of Good Wishes and Pure Feelings Meditation programme at the National Coordinating Office.
2007/2008
Raja Yoga Meditation was introduced to more than 50 cities covering 15 districts through out the country. The project was very successful.
2006
International Children's Day was celebrated in a grand way at Saraswathy Hall Colombo-4. Children from all ethnic group worked together on the theme of "Respect-Give & Take for a Value Based Society".
2005
Service to the Tsunami victims was really a Call of the Time. As thousands and thousands of families and individuals were affected by the sudden tidal waves of Tsunami. The Brahma Kumaris were able to offer a helping hand and a healing mind to many. Distribution of essential food items, cooking materials and clothings were carried out with medical treatments in most of the affected areas. The most heartfelt and needy support was sharing of spiritual knowledge with team in various forms such as exhibitions, workshops, lecturers and meditation sessions.
2003
2nd International Hindu Conference took place in Colombo. Dadi Gulzar, Additional Administrative Head of Brahma Kumaris visited Sri Lanka in order to participate in the conference.
 
1999
Dadi Prakashmani former Administrative head of the University visited Sri Lanka.
1998
Brahma Kumaris Raja Yoga Centres in Sri Lanka incorporated by an Act of Parliament of No.37/1998, by the Parliament of the Democratic Socialist Republic of Sri Lanka.
1997
A National Peace Initative was introduced to the country with the aim of collecting a "Million Thoughts for PEACE". Religious dignitaries from all religions and nearly a thousand people attended the inauguration ceremony.
1996
Dadi Janki visited to inaugurate the BK owned centre at Dehiwala.
Started to print the 1st Sri Lankan News letter "The Messenger" for the members of University all over the world.
1995
Didi Dr. Nirmala met with the former late Prime Minister Hon. Srimao Bandaranaike and presented her the book on "Visions of A Better World".
1994
Dadi Janki the present Chief Administrative Head Of Brahma Kumaris World Spritual University visited Sri Lanka. Dadi gave the message "Peace has to come in Sri Lanka" and launched the "Sharing Our Values for a Better World" an international project.
1993
Brahma Kumaris were introduced to the Sri Lankan government when Didi Dr.Nirmala was in Sri Lanka. She met the former late Prime Minister Hon. D.B.Wijethunge and discussed about bringing meditation into the school curriculum.
"The Year For Harmony" focusing on the inclucation and application of spritual powers. Seminars started for the public on various topics.
1992
Brother Jagathesa, the Late Chairman came and took the responsibility of Sri Lanka Brahma Kumaris Raja Yoga Centres.
1990
BK Janaki was sent from Malaysia in August.
Center Moved to Campbell Place, Dehiwela.
1989
In February, Hong Kong National Co-ordinator BK Mornie came from Madhuban with the blessings from Dadi Prakashmani, Dadi Janki and Didi Dr. Nirmala to give a lecture on Raja Yoga at Ramakrishna Mission, Colombo.
In July BK Chris Connely was sent from Hong Kong and a centre was opened officially in August at No.8, Chandraleka Mawatha, Borella, Colombo 8.
To find out more about the Brahma Kumaris Internationally, please visit us @ brahmakumaris.org
Share this: